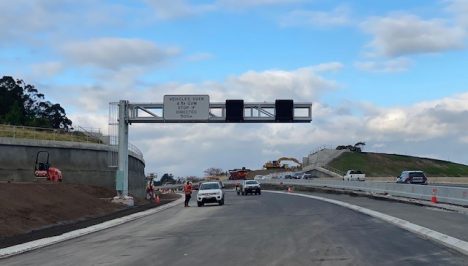 CMS B2B
March 14, 2020 3:09 pm
DSWJV engages AEI to design, manufacture, Install and Commission 2 x CMS including Foundation, Structures and ITS and Switchboard cabinet for the B2B project.
This project was a great learning curve and tested the AEI installation crew with the complexity of the foundation, separated into 2 sections, a 7m pile + pile cap on the top, also adding pile breaking and a blinder layer in the middle, we learnt a lot, and can't wait to take these new skills on to our next projects.
The structures were also particularly challenging, both 15m cantilever structures hanging out over the road. Our AEI Riggers did an amazing job to balance the load for the lift, worked out the back tilt and lifted and tension both CMS Structures up in a single day shift. Outstanding work.
A fantastic project and the results speak for themselves.